Knowing Britten (2021)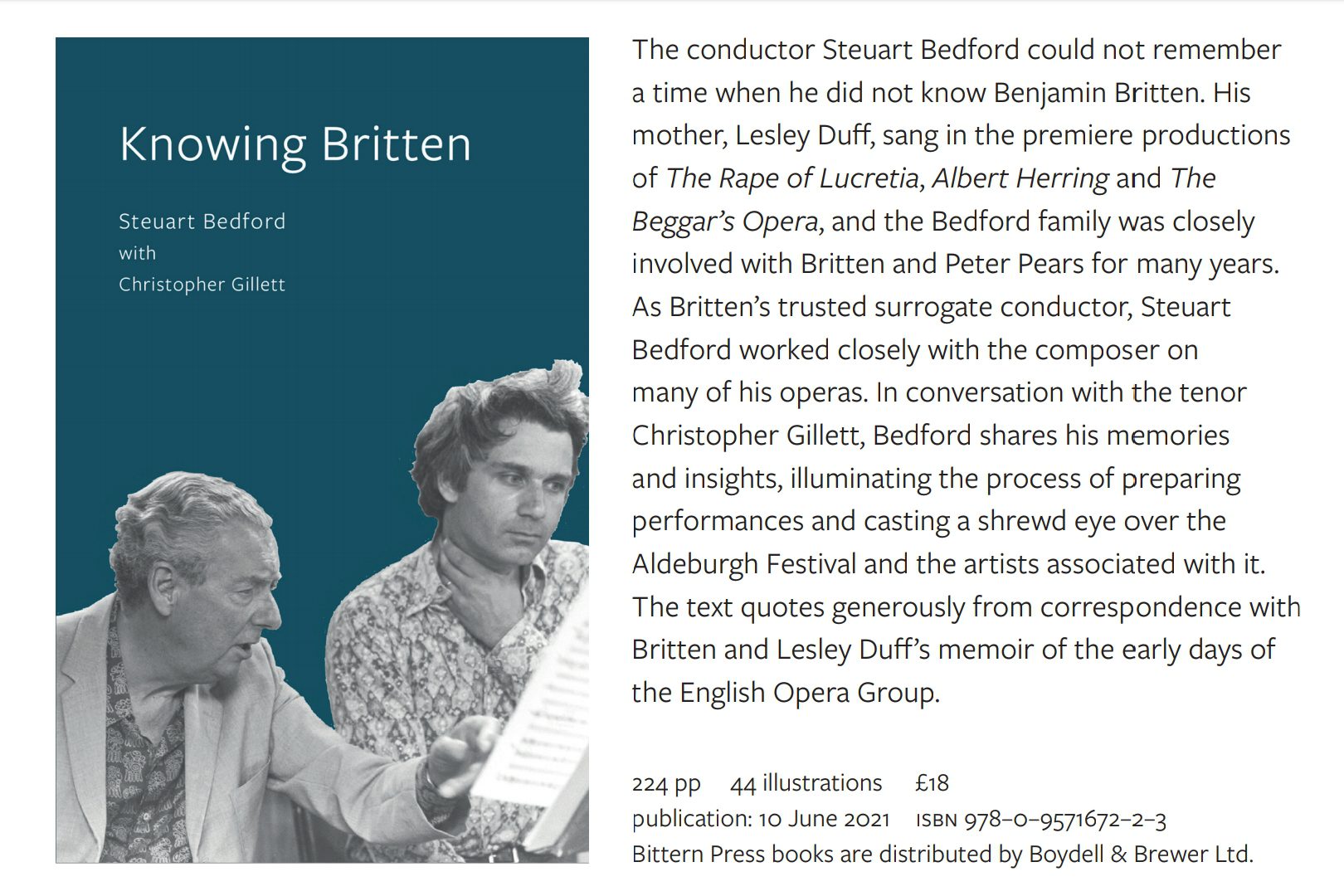 "Playing Janáček as a student with Steuart, a man who seemed to be music from his fingertips to his toes, inspired me to become an opera conductor. This fascinating book reveals his typically selfless devotion to serving a great composer, and is a window into his own personality, immensely strong but paradoxically never wanting to draw attention to himself. An enthralling read!"
Sir Simon Rattle
"Steuart Bedford's long and important association with Benjamin Britten made it almost a duty that he should write down his memories, which are vivid, and as full of insight as one might expect. But he has been especially blessed in his Boswell. Christopher Gillett proves an expert siphon, forming and shaping Bedford's recollections into a book unique in its form: a brilliant and often witty duet between memoirist and amanuensis that pirouettes back and forth through the decades like Tadzio on the Lido. Essential for devotees of Britten, this book should also fascinate and entertain anyone who cares about music, life, and the art of memoir."
Oliver Soden
Available to buy now from Boydell & Brewer or on Amazon.co.uk
The Bumper Book of Bottoms (2019)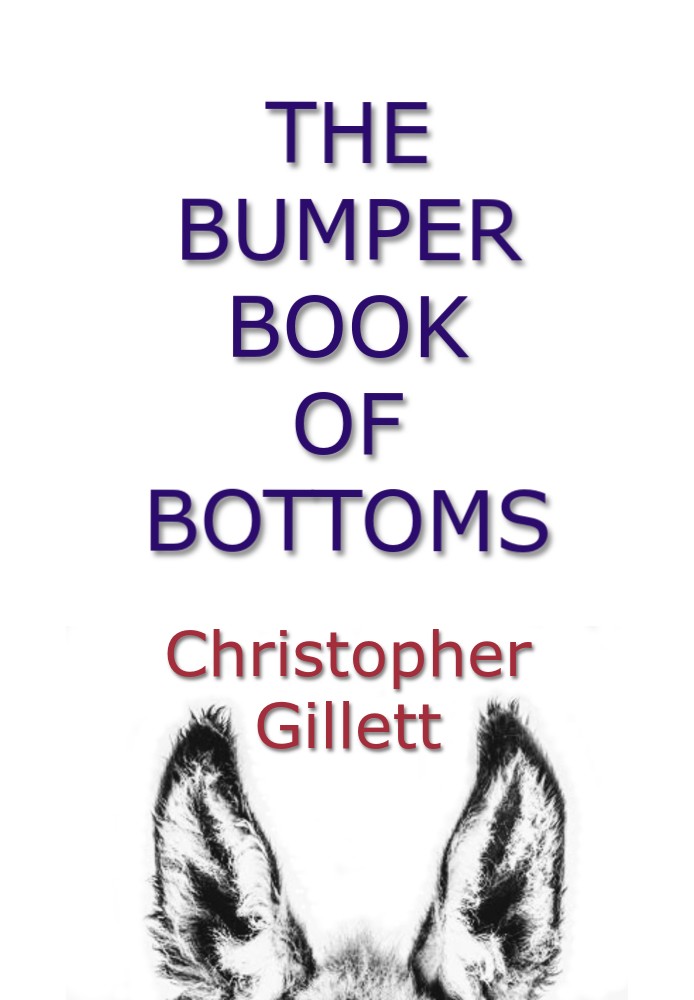 A compilation of all three "Bottom" books – Who's My Bottom?, Scraping The Bottom, and Bottom Feeder.
Buy it here: (paperback and kindle)
Bottom Feeder (2019)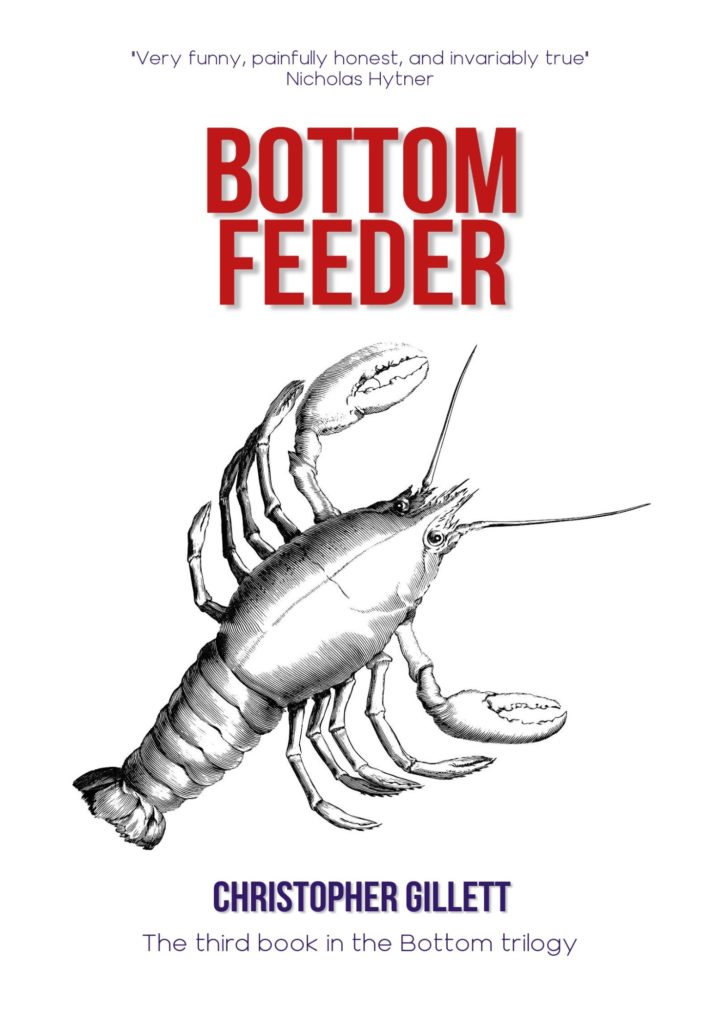 Buy it here (paperback and kindle):
Who's My Bottom? (2011)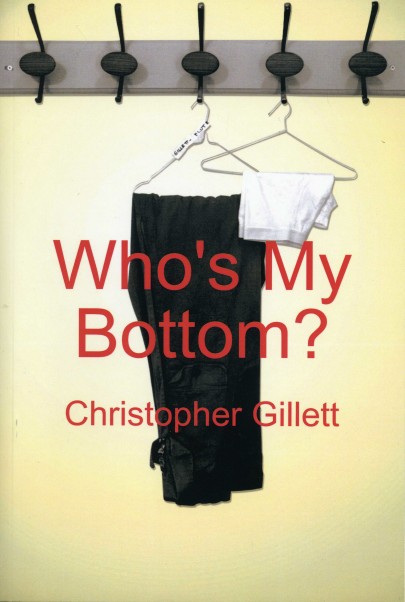 Buy it here:
Published Reviews
"…this man can really write. The result is a genuinely funny and original take on the pushes and pulls of an opera singer's life…. Makes for a worldly, multi-faceted story, which Gillett relates in his own particular no-holds-barred style, coupled with a descriptively inventive turn of phrase which will actually have you laughing out loud…. Gillett has given us everything we could ask for: dramatic pacing, humour, insight, thematic threads and a big ending."
– Antonia Couling, Classical Music Magazine
"He has a comic talent for bringing people and objects to life… instructive as well as richly entertaining."
– Richard Nicholson, classicalsource.com
Not since Elisabeth Söderström's 'In my own key' have I come across a book which enables the non-performer to understand quite what it means to go out and sing on the operatic stage; and Gillett's book is far funnier… charming, illuminating and bed-wettingly funny.
– Robert Hugill, Musicweb International
"The book is essentially a series of brief and hilarious glimpses of behind-the-scenes madness in the opera world. Not necessarily grand scale madness, but just the sort of absurdities, eccentricities and frustrations which every singer runs into, but which few, I suspect, would have the talent to do justice on paper. Gillett, however, has just that talent. He's honest – about himself as much as anybody or anything else – but not bitchy; he names just enough names (and places) that a cursory Google will find you the specifics (if you need them); and above all he's very, very funny."
– Sarah Noble, Prima La Musica
Some feedback:
I loved it..I Iaughed till I cried…and I think you are a bloody genius!
– Susan Bullock
LOVED it. It was a terrific, can't put it down read. It arrived two days ago and is already dog eared! I loved his style of writing and his frankness and honesty were both refreshing and beguiling. Great.
– Graham Clark
It's no exaggeration to say that Who's My Bottom? made me laugh out loud, abruptly and in public places, many times–and brought tears to my eyes at others.
– Steven Blier
Terrific. By turns hilarious and touching.
– Clive Bayley
You constantly hit so many nails bang on the head it was a joy, and also very moving.
– Richard Berkeley-Steele
Very funny, painfully honest, and invariably true. A real insight into a working opera singer's life
– Nicholas Hytner
The descriptions of rehearsals are very funny
– Ian Hislop
Scraping The Bottom (2013)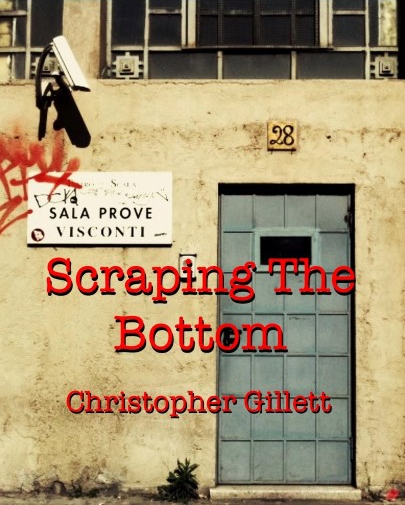 Following the success of Who's My Bottom? there are many more adventures on the road for opera singer Christopher Gillett. This is his view from theatrical digs in Montpellier, Paris, Amsterdam, Berlin and Los Angeles, on his way to the bedlam that is commonly known as the world's most famous opera house, La Scala, Milan, where he finds he isn't so much reaching for the stars as "Scraping The Bottom".
Buy it here:
Published reviews
"A great read and highly recommended."
– Robert Hugill, Planet Hugill
Lexibography (2014)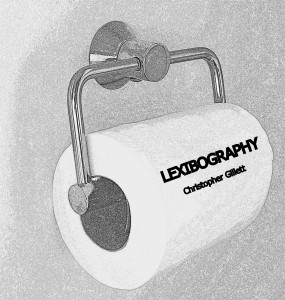 Lexibography (n) -the act of compiling new words that are best read while on the lavatory.
A compilation of new words that might be useful for describing the contemporary human condition.
Available on Amazon as a Kindle book and on Lulu as a paperback.
Opera Lives – Linda Kitchen/Nobby Clark
Christopher is one of the contributors.